Our Latest Used Bikes
Check below for our latest used bike stock.
Latest News & Offers
Below is the latest news from Yamaha UK.
Welcome to MCS Scotland Ltd
If you are looking for great savings on new & used bikes in the West of Scotland, then MCS is the place for you, based in Crookedholm, Kilmarnock, we are just off the A77, using the Bellfield Interchange/Q8 Services junction.
Looking for a new bike? Servicing? Parts? Or clothing ? Come pay us a visit. We realise that buying a bike can be a daunting experience, but don't worry, we offer excellent advice and experience on vehicles and vehicle maintenance. We are a well established dealer and come with a great reputation. Our friendly staff will go the extra mile to guarantee that you receive the advice you need. This is the reason why many of our customers keep coming back to us.
MCS Scotland Ltd, offering great deals on new and quality used motorcycles from Ayrshire to anywhere.
Read More About Us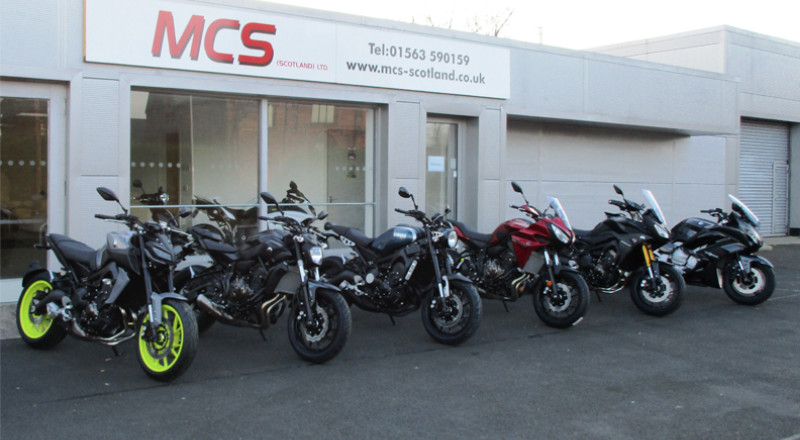 Great service from Greg at MCS with the purchase of my new Fireblade. Couldn't accommodate me more. Professional and friendly advice. Very pleased. 

Thanks to all at MCS.  Gordon Dunsmore, May 2022
Purchased an MT 07 and you guys have all been nothing short of amazing.  Not just with the bike sale but with everything surrounding my bike journey from start to finish.  Couldn't be happier!

Gordon McPhail     August 2022   
I am one delighted customer and new owner of a Yamaha MT09 motorcycle. I have had a number of motorcycles during my biking life but mostly Yamahas. So much fun and practical. 

So I did not hesitate when I wanted to change my then motorcycle for this brilliant MT09 and knowing that MCS in Kilmarnock do a fantastic job of looking after you and ensuring that costs are kept down to provide you with a service that you are delighted with. 

They are a great team and I have known them all for some time and they never let me down. Well done yet again for helping me on my latest purchase. I'm loving it!

Torquil Campbell  August 2022